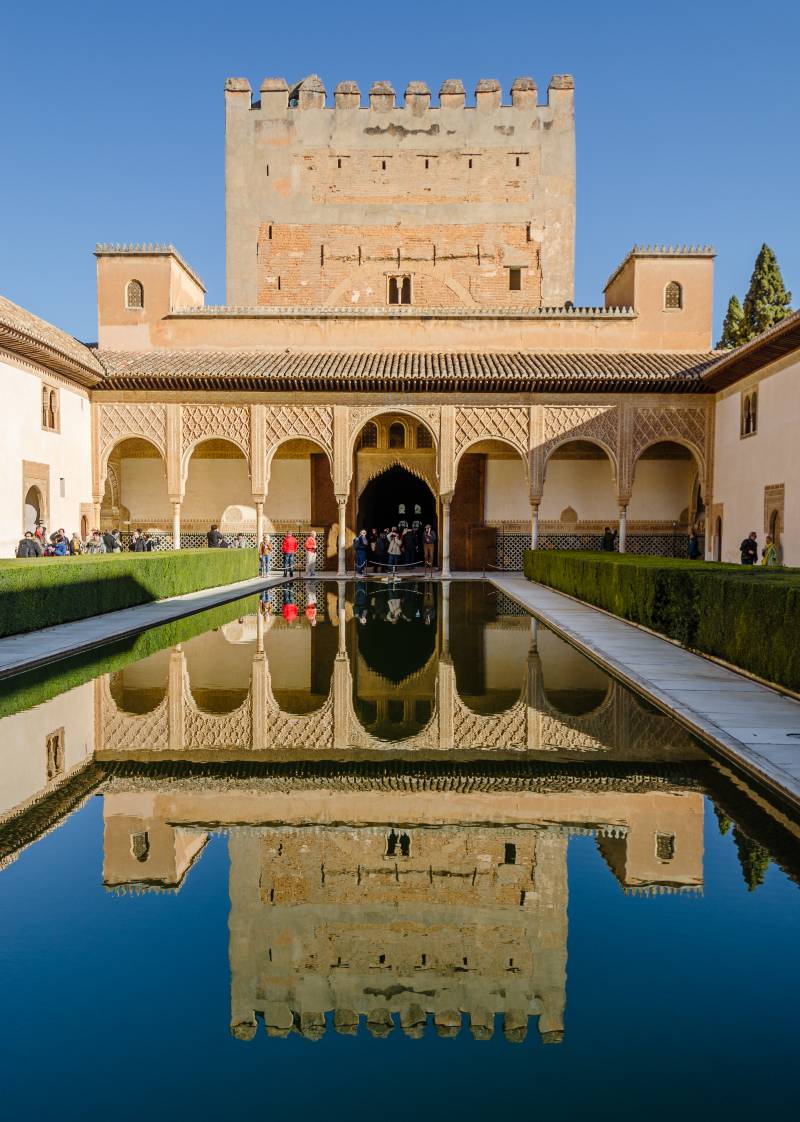 03-03-2018 Events Alhambra
This patio is probably the best example of Spanish-Hispano-Muslim domestic architecture
The second of the Nasrid palaces, COMARES, which you will also visit during our guided tour of the Alhambra and the Generalife, is a faithful reflection of the Hispano-Muslim architectural concept where the polyvalence of the spaces prevails. Royal residence, also houses the Throne Room. Built by Yusuf I (1333-1354), everything revolves around a rectangular courtyard, that of the myrtles where intimacy, water and nature make it a true oasis. It is made up of the Comares façade, the Patio de los Arrayanes, the Sala de la Barca, the Throne Room and the Hammam or Comares spa room.
| | |
| --- | --- |
| | |
Nature enters the palace through the courtyard, blending harmoniously with its architecture. This patio is probably the best example of Spanish-Hispano-Muslim domestic architecture, where the patio becomes the axis and heart of the house. Inside the great tower of Comares, from where the Albaicín is dominated, in the northern pavilion of the patio is the Throne Room, the largest room of the palaces, symbol of the power of the Sultan. In it we find the masterpiece of Islamic carpentry: its roof. Eight thousand seventeen pieces of wood form this roof that represents the seven heavens of Muslim Paradise, legitimization of real power.
BARCA ROOM
The Throne Room is preceded by the Sala de la Barca, its name comes from the word Baraka (blessing). In the fire of 1890 its roof burned, losing much of its decoration and epigraphy. Do not miss the arch of muqarnas entrance to the room and the beautiful marble tacas (cavities).